Cubby House 'Jack'

$999 (Excl Delivery)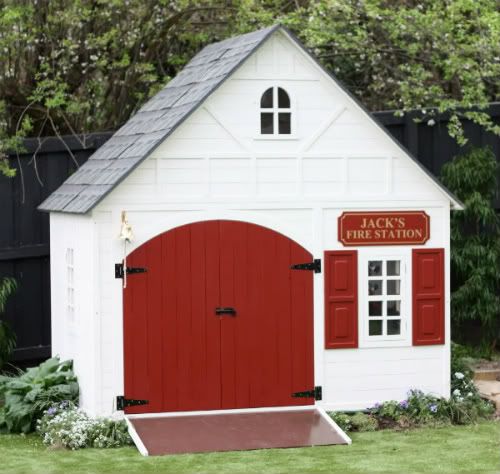 Jack's Cubby House will be a sure hit with your little ones. It's new to the
Hip Kids
range. Very versitile it can be setup as a Workshop, Fire Station or Barn. The large barn style double doors also allow easy entry & storage for your child's bike or ride on toy car
Like 'Alice' Jack's Cubby can be erected in approximately 2 hours by 2 people as it comes in a prefabricated panel kit which consists of 10 separate panels. You don't need special carpentry skills. You just need to follow the instructions (provided with kit) and have a powered screw driver handy.
NB: Jack's Cubby is supplied unpainted and has been painted in photos for display purposes only. We can provide Duluxe colours used upon request.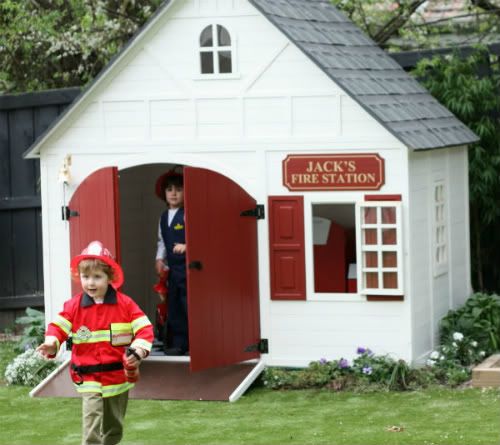 FEATURES:
Unique detailed Tudor style design
Pre-fabricated, sturdy construction
Easy quick assembly (assembly time approx 2 hours by 2 adults).
Assembly instructions & all hardware included.
All 3 windows open and close
Perspex on all windows
1 attic skylight window
Double Front Doors
Shingled Asphalt Roof.
Made from durable Fir Wood (part of the Pine family)
Can easily be disassembled and moved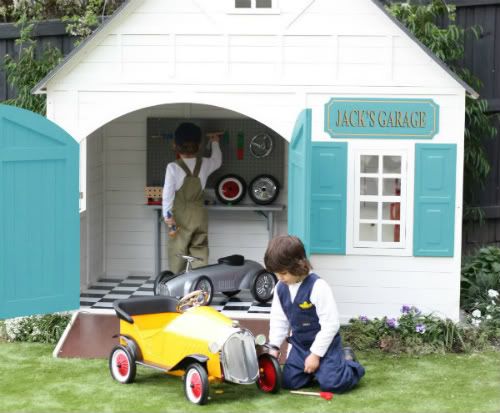 NOT INCLUDED IN KIT:
Front Ramp

Kids furniture (as pictured)
Cubby House Floor/Base.

Paint (as Jack's Cubby is offered unpainted)
Metal Bell
Silicon for extra waterproofing (however not necessary)
Kids Toy Wagon & Pedal Car (as pictured however they can be purchased through our website)
Tools
What you will need for assembly: Screw Driver (cordless powered screw driver is recommended) and Ladder (to fit roof)
CUBBY HOUSE DIMENSIONS:
External dimensions: 240cm W X 240cm H (highest peak) X 180cm D
Floor Dimensions: 229cm W X 159cm D
Windows: 27.5cm W X 53cm H X 20cm D
Double Door Opening: 120cm W X 116cm H
Internal dimensions: 225cm W X 235cm H (highest peak) X 154cm D
Jack's Cubby can be delivered to your door or it can be picked up from our warehouse in Sunshine Melbourne or Smithfield in Sydney
The kit consists of 4 large cartons
Carton 1: 1.86m x .95m x 0.09m 52kgs
Carton 2: 1.86m x 1.66m x 0.11m 50kgs
Carton 3: 1.54m x 1.32m x 0.09m 34kgs
Carton 4: 1.82m X .8m X .12m 49kgs
Note: If you would Jack's Cubby delivered due to the size and weight of this item we suggest that customers have 1 capable person available at home at the time of delivery to assist delivery driver.
Please refer to our Frequently Asked Questions page for more details or Contact David on 0438845522
Whether you intend to purchase Jack's Cubby' or you have already purchased a Cubby House elsewhere, we can help you with your Cubby House fitout as we also stock on the Hip Kids website such products as
kids sofa chairs
,
kids table and chairs
, retro
toy kitchens
, wooden
toy pianos
, steel
pedal cars
, k
ids activity tables
plus more
$999 (Excl. Delivery)